Feu à volonté
Jump to navigation
Jump to search
Languages:




Le contenu de cette page est une traduction de
Freefire
.
The English origin article and this translation do not match. Please help translating
. Look
here
to learn how.


Feu à volonté

Description:

Autorise les gardiens à ouvrir le feu sur les prisonniers si nécessaire.

Sous-menu:

none

Autres informations: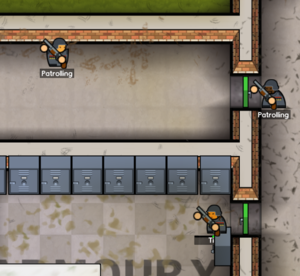 Feu à volonté est une commande d'urgence que le joueur peut utiliser pour maintenir l'ordre dans sa prison.
Sa fonction première est de donner l'ordre à tous vos gardiens armés et Snipers de prendre leurs armes et de tirer sur les Prisonniers au mauvais comportement.
Gardez à l'esprit que si les gardiens armés ou les snipers commencent à tirer sur les prisonniers, ceux-ci peuvent commencer une émeute. N'utiliez cette option que pour "nettoyer" votre prison de prisonniers qui se battent ou provoquent des émeutes constamment. Un gardien qui est proche de la mort peut avoir peur pour sa vie, sortir son arme et tirer sur un prisonnier, même si le mode "feu à volonté" n'est pas actif.
L'option feu à volonté n'apparait que si vous avez des gardiens armés et/ou des snipers dans votre prison.
Une fois l'option activée, tous les gardiens armées sortirons leurs fusils à pompe et les snipers n'effectuerons plus de tirs de sommation envers les prisonniers belliqueux. Quand une bagarre commence, les gardiens armées n'utiliseront plus leurs poings ou tazers pour arrêter la bagarre, mais ils ouvriront le feu directement avec leurs armes. Les snipers viseront dans le but de tuer.
Liste des objets d'Urgences
Evénements
Unités d'urgence
Actions d'urgence