Island Bound
Jump to navigation
Jump to search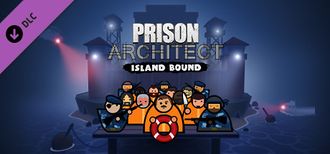 ---
Type
---
Release date / Patch
---
Store: Expansion
Island Bound is the 2nd expansion for Prison Architect, announced on 2020-05-14 and released on June 23, 2020.
This expansion will allow you to create island compounds with no access road. You will have to bring your logistics game to a whole new level with these prisons, as you need to use a variety of new tools to make sure they run as intended. From ferries to helicopters, you will be able to maximize efficiency by linking them to specific deliveries – but be careful, as this also means more access points to sneak in contraband into your prison!
Luckily, you will also have new security objects that will allow you to inspect deliveries and prisoners as they enter the prison, or at key security checkpoints. You will also have access to additional emergency services when things get out of hand. Air Firefighters, Elite Ops Teams, Air Paramedics – we made sure you have all the support you need when things take an unexpected turn.
Finally, you will have access to new tiles and objects to customize your island!
New Delivery and Transport systems
[
edit
|
edit source
]
Helipads: use 2 new helicopters to replace the standard road services.
Supply Helicopter
Prisoner Intake Helicopter.
New Helicopter Emergency Services
[
edit
|
edit source
]
Transport: allows users to toggle the specific services available to Docks, Helipads, or the road. Each service is then split further to allow users to toggle either the entire services or parts of it:
Connected Island - An island plot surrounded by water, but connected to the road via an auto-generated bridge.
The scanner machine allows for crates to be scanned for contraband before being brought within the prison's walls.
A scanner monitor must be placed and connected to the machine (the same way as CCTV Monitors and cameras) and also be manned by a guard for it to operate.
Works similarly to the metal detector
Manned by guard that performs pat-down searches
Can be used to enforce inmate searches at certain key points within the prison
It's one way
Alcatraz Island - the ruined remains of Alcatraz prison, ready to be rebuilt from scratch.
The Rock - a ready-to-play copy of the Alcatraz prison.
Possibility to place standard Water.
Landscaping options: