Sectores
Jump to navigation
Jump to search
Languages:



El contenido de esta página es una traducción de
Sector
.
The English origin article and this translation do not match. Please help translating
. Look
here
to learn how.


Sectores

Gameplay

Description:

Different sectors in the prison can be assigned to different security levels, to prevent certain or all prisoners from going there.

Other Information:
Este artículo es sobre las zonas de seguridad en el juego. Para obtener información sobre las patrullas o asignaciones de trabajo, consulte Deployment.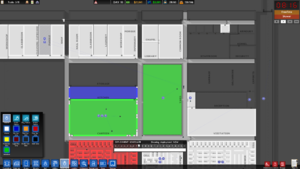 Sectores, o en singular Sector, es el título dado a ciertas áreas designadas del mapa. Cada área de su prisión que está totalmente cerrado por paredes y puertas se consideran un sector. Al establecer la evaluación de seguridad de un sector, el jugador puede controlar el uso y el flujo de los reclusos en la prisión.
Cada sector se colorea del mismo color. Los sectores se divide el interior de un edificio por puertas - si tiene varias habitaciones que fluyen entre sí sin una puerta, todos serán considerados el mismo sector.
Lista de Sectores
[
edit
]
Type
Display
Notes
Minimum Only (Mínima sólo)
Azul
Sólo prisoners de Mínima seguridad están autorizados a entrar o trabajar en esta área. Si esto es una Cell Block (Bloque de celdas), sólo los prisioneros de seguridad mínimas serán alojados aquí.
Medium Only (Media sólo)
Naranja
Only Medium security prisoners are allowed to enter or work in this area. If this is a Cell Block, only Medium security prisoners will be housed here.
Maximum Only (Máxima sólo)
Rojo
Only Maximum security prisoners are allowed to enter or work in this area. If this is a Cell Block, only Maximum security prisoners will be housed here.
Shared (Compartido)
Blanco
All prisoners and Staff have access to this area. Prisoners housed or working in this area will be of mixed security ratings.
This is the default sector designation before having researched Deployment through Bureaucracy.
Staff Only (Staff sólo)
Negro
Prisoners are not allowed to enter this sector and will attempt to path around it if possible.
Unlocked (Desbloqueado)
Verde
All prisoners and Staff are allowed to enter or work in this area, and all doors leading to this area will remain locked open unless a Lockdown is called from the Emergency menu.
No Access (Sin acceso)
Amarillo Rayado
Any area of your prison which is inaccessible by Staff will flash with yellow stripes filling the region. Construct a door or destroy a section of wall to make this area accessible again.
Unsecured (Insegura)
Amarillo Parpadeando
Any area of your prison that is unsecured / unlocked to the outside of your prison's exterior walls will repeatedly flash yellow and revert back to the zone color.
Prisoners in these sectors will immediately attempt to escape.
Staff only areas will not be entered by prisoners even if the doors are wooden or locked open, so they are a good way to allow visitors access to areas of your prison. However, prisoners will attempt to escape if it leads to the outside.
If you want to allow two types of prisoners into an area but exclude a third, create two small hallways outside the room and designate them with different security ratings, then set the room as Shared. As long as those two hallways are the only way into the room, no prisoner from the third designation will be able to reach that room.
History
[
edit
]