Contrebande
Jump to navigation
Jump to search
Languages:



Le contenu de cette page est une traduction de
Contraband
.
The English origin article and this translation do not match. Please help translating
. Look
here
to learn how.


Contrebande

Gameplay

Description:

Les objets de contrebande peuvent être utilisés comme armes, outils d'évasion ou drogues et vos prisonniers ne devraient pas en posséder.

Autres informations: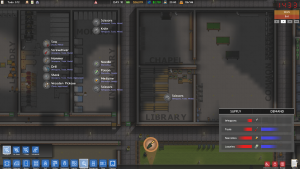 La contrebande désigne tout objet que ne devrait pas posséder un prisonnier. Si un garde trouve un prisonnier en possédant, un son se déclenchera,notifiant la découverte, suivi d'une notification correspondant à un code couleur, et puis l'objet apparaîtra dans la liste de tâches répertoriant le nombre de prisonniers qui sont en confinement ou isolement. Les punitions peuvent être modifiées en recherchant la police dans Sécurité depuis Bureaucratie.