Going Green
Jump to navigation
Jump to search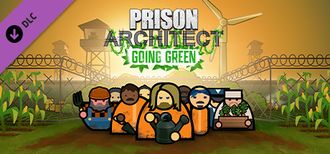 ---
Type
---
Release date / Patch
---
Store: Expansion
Prison Architect: Going Green brings agriculture to your compound, introducing farming, produce exports, and a whole bunch of contraband.
Fruits of Labor: Farming introduces a new type of Prison Labor, allowing prisons to grow potatoes, wheat, apples, and more. Produce can be exported or used as ingredients for inmate meals.
Room to Grow: Three outdoor rooms facilitate farming: Fruit Orchard, Farm Field and Vegetable Allotment. But that's not all, players can recruit staff Farm Workers, build a Pantry to store produce, and construct a Shed to house farming-related items.
Best Buds: Inmates who enjoy nature's beauty can grow flowers and other plants recreationally. Gardening affects inmates and gives them a positive recreation activity.
Trouble is Brewing: With new crops comes new contraband. Prisoners can now secretly grow herbs in the fields and swipe kitchen ingredients to brew Booze. Fields can also become Gang Turf, so keep your guards on alert!
A Greener New Deal: Prisons get an eco-friendly makeover with Solar, Wind, and Solar/Wind Hybrid power sources. Excess power created by these sustainable methods can be sold back to the grid using the Power Export Meter.
Growable produce including: potatoes, wheat, apples

New export and usable as ingredients for inmate meals

New outdoor rooms: Fruit Orchard, Farming Field, Vegetable Allotment
Plant growth life cycle, irrigation, and composting
New Shed Object - which will store farming related items such as seeds

Also required for basic irrigation

New Prison Labour type
New staff member: Farm Worker
New room: Pantry

Allows you to use your own produce in your prison kitchen

Automatic Farming Items:

Auto Scythe
Auto Harvester
Auto Gatherer (basic and advanced)

New reputations:
4 new grants
4 new policies
Narcotic Production

Fields can be utilized by prisoners to secretly grow contraband herbs
Fields becoming potential Gang Turf
Herbs can be gathered and become Drug contraband

Booze Production

Kitchen ingredients and prison grown fruit etc. can be gathered by inmates and fermented/brewed
After several stages, Alcohol contraband is produced

New reputations:
New Green Power Sources

Solar, Wind, and the Solar/Wind Hybrid
New electrical items: Transformer and Batteries

Selling electricity

New Power Export Meter object - which allows returning power to 'the grid', in exchange for profits

New Educational Program
New Green Power Grants
Energy targets
Includes a new room, a recreational/training program for inmates, and 5 new plant items: Rose Bush, SunFlower, Mixed Begonias, Heather bushes, and Hydrangea plants.
Inmates will be able to tend plants within the new Flower Garden room
Flowers improve the prison's aesthetics and help calm prisoners tending to them.
Bottle Wall
White Picket Fence
Reclaimed Wood Wall
Hay Bale Wall
Wooden Fence
Garden Walls
Barn Door
White Picket Gate
Double Door/Staff Door/Visitor Door
Garden gnome
Light (Solar)
Topiary Bush
Pink Flamingo
Hay Bale
Serving Table (small)
Tray Dispenser
Food Tray Pack(s)
Wall Light (Solar)
Topiary Bush (Ball)
Topiary Bush (Warden)
Topiary Bush (Swan)
Topiary Bush (Deer)
Topiary Bush (Dog)
Topiary Bush (Cat)
Topiary Bush (Rex)
Wall Planter
Flower Planter (watering can)
Flower Planter (wellies)
Flower Planter (wheelbarrow)
Reclaimed Brick
Field Grass
Reclaimed Rubber
The Work Fields
Green Power Plant
The Botanist
The Ecologist